Indiana 4‑H and, indeed, the broader 4‑H community nationwide has lost a stalwart supporter. Bill Viar passed away Friday, April 17. Bill was associated with the 4‑H community both professionally as the Director of the Special Risk Division of American Income Life Company, a position he held since 1995, and as a volunteer on the Indiana 4‑H Foundation Board of Directors for three terms including last year's service as vice president.
Bill always greeted everyone with a smile at Indiana 4‑H Foundation meetings and he was a friendly face at many of our local, statewide, and national events as well. We celebrated with him as he was inducted into the National 4‑H Hall of Fame in 2016. We mourn with his wife, Terri, and family along with our larger 4‑H family.
The Indiana 4‑H Foundation Board of Directors is establishing a memorial scholarship endowment within the Indiana 4‑H Foundation.
All contributions up to $12,500 will be matched.
Contributions can be made to the Indiana 4‑H Foundation, P.O. Box 3125, Indianapolis, IN 46206.
Please write Bill Viar Scholarship Endowment in the memo.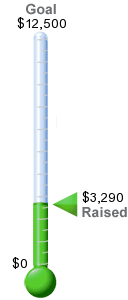 So far we have raised $3,290 of our $12,500 goal, which will be matched for a total of $25,000.